Hereditable Diseases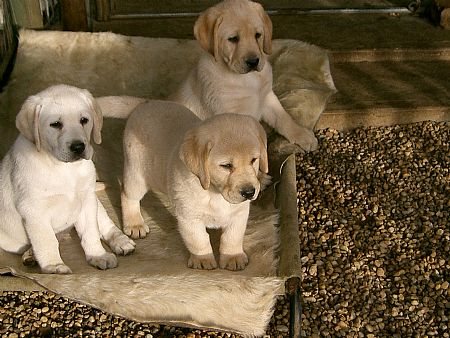 Our Philosophy
"The Health & Welfare of our dogs is of Paramount Importance"
In the forty years since our kennels were established our policy has been to use only sound, healthly breeding stock with the aim being to produce puppies with a reduced risk of them developing any of the hereditable diseases that are asociated with the Labrador and many other breeds.When the joint AVA / Labrador Retriever Club of NSW Hip Dysplasia Scheme commenced in 1969 all the dogs that were owned by us at that time were submitted for x-ray and diagnosis,since that time we have consistently screened all of our breeding stock and all of our x-rays are processed through the ANKC / AVA Hip & Elbow Dysplasia Scheme. (CHEDS).
There are a number of eye conditions that may affect Labradors. Our dogs have annual examinations by leading Canine Opthamologists.
We were among the first breeders to submit blood for DNA testing and all our breeding stock have Optigen A1 clearances and are listed on the Australian Canine Eye Scheme (ACES) Database.
No breeder can guarantee that a puppy will not develop a hereditable disease but a responsible breeder will use all available screening programs to ensure that their breeding stock is sound.

If you are thinking of buying a Labrador Puppy ensure that the breeder shows you the Hip, Elbow and Eye Certificates for the parents, if they are reluctant to show them to you or tell you that they are not necessary, we would advise you to look elsewhere for your puppy.